For BioAlumni
BioAlumni - Alumni of the faculty of biology
Finally we are starting our alumni-network:
Stay in touch with your former faculty, join the BioAlumni!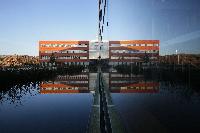 Our website as well as our half-yearly newsletter will keep you informed about your faculty. First of all, we would like to inform you about current research activities, additionally we will pomote public events and job offers. Last but not least, we would like to offer our students as well as other alumni possibilities to profit from your experiences.
Soon our website with registration option will be online. Of course you can already get in touch via alumni@bio.lmu.de
Contact
Dr. Beate Hafner
Biocenter LMU München
Großhaderner Str. 2-4
82152 Planegg-Martinsried
Tel. 089/2180-74714
alumni@bio.lmu.de